WELCOME TO THE WORLD OF SECONDHAND CLOTHING
WITH NEARLY THIRTY YEARS OF EXPERIENCE, GARSON & SHAW IS A LEADER IN THE TEXTILE REUSE INDUSTRY. WE LOOK FORWARD TO SHARING OUR EXPERTISE AND PASSION FOR SECONDHAND CLOTHING WITH YOU.
GET IN TOUCH


INTERESTED IN BUYING SECONDHAND CLOTHING?
Give us a call and we'll help you find the product that's right for you. Working with Garson & Shaw allows you to concentrate on your business – we take care of the supply in close co-operation with you.
Only about 15% of discarded clothing is recycled, but Garson & Shaw is changing that. We sell secondhand clothing to clients worldwide.
Working with thrift stores, charities, and for-profit companies, we recycle millions of pounds of clothes, shoes, and household items every year. Affordable clothing is in high demand almost everywhere. We connect unwanted clothing and household goods with the people who need them.

Not Your Average Sales Team
Garson & Shaw is known for our experienced, reliable and respected sales team. We offer dedicated sales representatives who will manage your purchases from start to finish. In most cases, our reps will be able to speak your language and have special knowledge of your market. Our experienced staff also provides assistance with logistics management and documentation.
With nearly 30 years of experience,
Garson & Shaw can manage almost any request.
Choose Garson & Shaw for a seamless and hassle-free buying experience.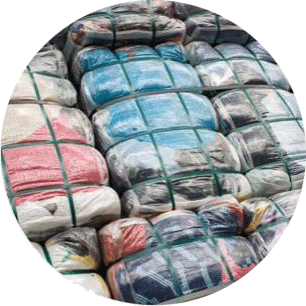 Garson & Shaw is the exclusive sales office for numerous Credential/Original clothing collections in the United States. We represent independent collectors and producers of Mixed Rags, Tropical Mix, Sorted Items, Shop Quality, Shoes, and Miscellaneous items from the United States, Canada and Europe. Whatever your business, we can provide a wide variety of high-quality secondhand goods.
Unsorted, untouched donations in the exact condition in which they were donated.
A byproduct of thrift stores, consisting of items that thrift stores are unable to sell.
Clothing that comes presorted specifically for countries with tropical climates.
Lightweight summer clothes that are sorted into specific categories by type and quality.
Top-grade premium quality collected goods, shop quality is our highest grade sorted clothing.
Original shoes directly from donations, shoes are sold "as is" in shoe bags or cap-sacks.
A mix of items that may include toys, sporting goods, kitchenware, luggage, and shoes.
GARSON & SHAW CONNECTS YOUR UNWANTED THINGS WITH PEOPLE WHO CAN USE THEM. IT'S OUR BUSINESS TO GIVE YOUR USED CLOTHING A SECOND LIFE.