The Jeans Redesign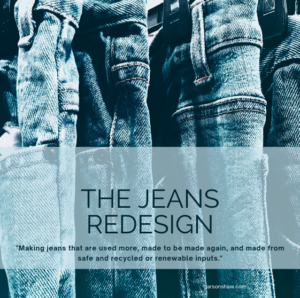 The Jeans Redesign became project since the production of jeans uses a lot of resources, including pesticides, water, and electricity, and because of the way they are made, it is challenging to remake and recycle them.
This approach to the redesign of jeans encourages well-known companies, mills, and producers to change how jeans are created. They serve as a guide for group action to expand circular practices and are based on the concepts of a circular economy.
The recommendations serve as a springboard for business to create goods that are consistent with the tenets of a circular economy.
Making jeans that are used more, made to be made again, and made from safe and recycled or renewable inputs.
They are a "minimum bar" that will need to be evaluated and revised frequently to make sure they continue to advance the business. The first pair of modified jeans made using the criteria were finished in June 2021, proving that circular jeans may still be made today.
Some of the popular brands that have agreed to work with the guidelines for redesigning jeans are, Denim Clothing Company, Asos, Banana Republic, Gap, Levi Strauss & Co.; among others.
 The Jeans Redesign guidelines.